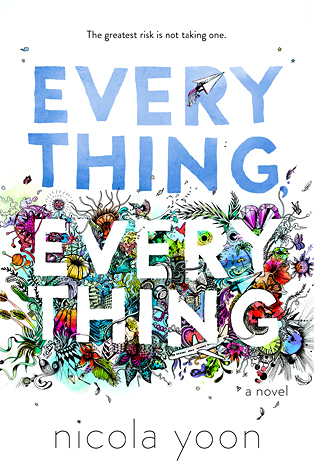 Author: Nicola Yoon
Published: Corgi Books, 2015
Pages: 306
Genre: Fiction, Young Adult, Contemporary
Read more about it on 

5 out of 5 stars

Madeline Whittier is the girl who lives in a bubble; allergic to the world around her, never to step outside her front door. She had comes to terms with this – she tried to not think about it – that is until Olly moves in next door… Will she stay in her bubble or risk all to truly live?
This book… It's called Everything, Everything and it is EVERYTHING! In just one day – technically less than a day – I devoured this glorious book. It was impossible to stop reading and I finished it around 2:40am. Then came the urge to write a review but well, unfortunately you know, I thought I better go to sleep – even though I wasn't actually tired. So, here I am, writing this review as soon as I wake up and I don't know how to articulate all my feelings, especially without revealing the twist.
There is indeed a twist in the book – it comes towards the end and that is all I'm revealing. Due to the twist – which I really want to talk about – I'm not going to go into too much detail, but I will talk about the precious characters. All the characters I pretty much liked – to different degrees – apart from Olly's dad. Carla is right about Maddy: she is strong. Given everything, she doesn't let it get her down. She is still able to laugh and get passionate about books and architecture and I admire this about her. She doesn't remain so chipper after she meets Olly and realises just how much there is out there for her to experience and then comes to really want everything, but she takes a huge risk in order to experience this and although part of me found her a bit reckless – mainly because I felt for those who really love her, like her mum – I could respect her decision also to choose how she wanted to live her life, now that she was eighteen.
Why is it, that all the perfect guys seem to be in books? I'm sure there must be one or two in real life, but lets face it: they're all in literature. Olly is one of these people. It was nice to see that he was a fleshed-out character and wasn't just there to be a love interest; he had his baggage also and was dealing with things. I particularly loved the inclusion of the gymnastic side of him and the fact that he also loved maths. Throughout the book, I was always trying to imagine his Atlantic Ocean blue eyes – and Maddy's big hair – haha.
The fact that this is Nicola Yoon's debut novel is astounding – it is most certainly a debut to be proud of. Everything, Everything is a must read! This magnificent debut novel has EVERYTHING: Characters you will love – but whom also do questionable things – and a character you will hate; heart-wrenching circumstances; it will make you think. After reading Everything, Everything you will ruminate on: What is really living? You will come away from this book with the need to live life to the fullest.
Who has read this incredible book? What did you think?