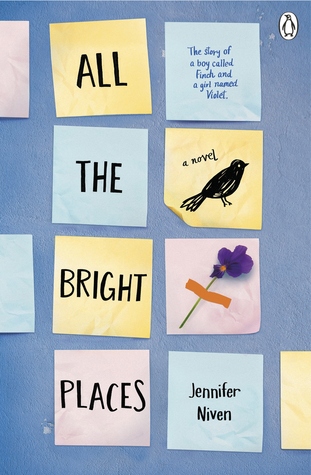 Author: Jennifer Niven
Published: Penguin Books, 2015
Pages: 378
Genre: Young Adult, Contemporary
Read more about it on 

5 out of 5 stars

(There is a spoiler towards the end of this review. I have wrote "Spoiler Below" before it.)

Theodore Finch and Violet Markey meet on the ledge of a bell tower – not your usual meeting place – and from here their journey together begins. A story of a boy who thinks excessively about death but does his best to live life to the fullest and the girl who has forgotten how to live learning to live again from this boy often consumed by a darkness.
Devastated: this is what I am. This book destroyed me! It's hard to know where to start… Finch becomes drawn to Violet and it made me think about how it's interesting how we can become excited by and how we can try to latch on to someone we believe to have some small understanding of ourselves. Someone we can click with on some level, however small it may be.
…me in overdrive for a girl I barely know, all because she's the first person I've met who seems to speak my language. A few words of it anyway.
This is what All the Bright Places does: it makes you think. You are taken on a journey through the personal trials of someone dealing with mental illness and it really highlights how quickly the darkest moments of mental illness can come on and take hold. What stuck with me in particular is this:
The fact is, I was sick, but not in an easily explained flu kind of way. It's my experience that people are a lot more sympathetic if they can see you hurting, and for the millionth time in my life I wish for measles or smallpox or some other recognizable disease just to make it simple for me and also for them.
It seems appropriate(?) that this book should come into my life at this time (thanks Secret Sis), as I have found myself thinking of this recently. When you tell someone that you/someone else are/have been sick, you feel as though they expect to see a physical ailment and they may ask you what's wrong – which I think is actually none of their business – but it isn't always possible to physically see what's wrong or even describe it. And I think Niven hit it on the head, by including this part.
Both main characters were likeable – I liked them anyway – and Violet at times really struck a cord with me, when she felt helpless in not being able to help her loved ones. I'm glad Jennifer included this because as hard as it is for people to live with mental illness, it is also difficult for the loved ones also. It is an awful feeling seeing someone you care for dealing with this inner struggle and not knowing how to help them.
I wanted to scream "Theodore Finch you are enough!" There is something magnetic about Finch and when he wasn't experiencing dark moments he was such a great light. AtBP moved me beyond words and, in ways, spoke to me on a deeply personal level, which is possibly why it affected me so much.
SPOILER BELOW
The lose of Theodore Finch, at that moment, left an almost hollowness…? Theodore Finch no longer physically existing in the world felt so wrong. It was then that I had to remind myself that Theodore Finch does not actually exist, although I'm sure many people may have a Theodore Finch in their lives. This, I believe, illustrates Jennifer Nivens' talent. This was a personal story for Jennifer, as she reveals in the back of the book, which would have helped give the book an authenticity, but it is clearly her talent as a writer which allowed her to pen a novel so devastatingly beautiful and left me feeling…raw.
For some reason I didn't actually think that the story would take the path that it did and it hit me like a sledge hammer, but I suppose it added a certain realness to the story – sadly there is not always a happy ending. However, I worry about this turn that the story took, as I feel, a different outcome would have provided more a feeling of hope.
All the Bright Places is a special book and will now sit on my shelf as one of my favourites.
Did anyone manage to keep their eyes dry when reading AtBP?