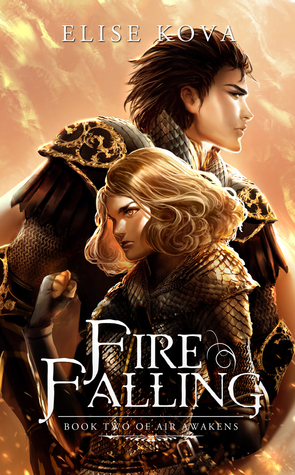 Author: Elise Kova
Published: Silver Wing Press, 19th November 2015
Pages: 378
Genre: Fiction, Fantasy
Series: Air Awakens #2
Read more about it on 

4.5 out of 5 stars
I received a copy of this book from the author in exchange for a honest review.
Marching to war as property of the Solaris Empire, Vhalla Yarl is still developing her gifts as the Windwalker, sorting through her feelings for a certain prince and well, trying to stay alive. Will she be their savior while retaining her humanity or will she have to be the monster some fear her to be?
Well, well, well…what can I say about this book? Where do I even start? Epic! It is an epic sequel to the 'Air Awakens' series. It leaves off pretty much from where the first book left off and we see Vhalla struggling with previous events. This is nice to see because I need this in a character; I need to see them struggle with what has happened and to show their conscience because it makes them more human – more real. Vhalla, I feel, is often too hard on herself, but it's nice to see that she cares.
On her journey, Vhalla is never truly alone, even though sometimes she may feel as though she is; she is surrounded by people who care for her – even if there are also quite a few who would like to kill her. This brings me to the other amazing characters. Larel and Fritz are amazing! Larel is always a steady friend there by Vhalla's side and I know they became close during the first book – mainly because Vhalla tended to need a lot of healing – but I do wonder when Larel came to truly care for and love Vhalla… They became friends but how did they get to that level of friendship? Maybe it just seems a little fast for my liking as they haven't known each other a long time. This aside, their friendship was sweet, just as they all were.
Fritz. Omg, I love him to bits and he had me laughing – again. It's refreshing to have a gay character and the fact that he's gay not be a big deal. It was great to see more of his powers and what else waterrunners are capable of – you know, so I have an idea in advance of when my powers awake, haha. It was lovely to see Daniel and Craig back – I have a huge soft spot for these guys.
The two characters left I wish to speak of are the two princes: Baldair and Aldrik. After reading Air Awakens I wished to delve more into these siblings relationship and we do get more but I'm certain there's more we don't know yet. Just like any sibling relationship there are moments when they would probably wish to kill each other and half the time they seem to be suspicious of each other but there is progress and it's sweet to see; those moments when they realise that maybe they do not know all they think they do about each other. A kind thank you or a nice gesture is heart warming to see.
Aldrik. When I think of Aldrik, it's funny to say, but a scene from Shrek comes to mind. If I'm remembering it correctly, it's a scene between Shrek and Donkey and someone – I think Shrek – talks about how Ogres are like onions, as they have layers. This is how I think of Aldrik. Many consider him only as the fierce Fire Lord who is to be feared but like an onion, he has so many layers. Most of what people see though is a mask. This is how he has survived around cut-throat people at court. He constantly wears this mask and it occurred to me how incredibly exhausting this must be – it made me like him a little more.
Elise Kova has developed Aldrik and Vhallas' relationship well, I think, and in my review of Air Awakens I mentioned that I was appreciative of this and I still am – I must say, this also makes me like Aldrik more. But again with all intense relationships it makes me wonder: what lines are they willing to cross for each other. It always strikes me as being such dangerous ground and I found myself a little annoyed at Aldrik for being willing to let others die in order to protect Vhalla.
The story progressed well and I felt as though I went on a journey with them and readers be prepared that something happens that may have you crying – I can think of some who will be heart broken.
Now on to the ending… Elise, what on earth were you thinking doing this to your readers? That last page… I can't even… I cannot believe you ended it there! All I keep thinking is: Please don't let it be what it seems! This cannot happen!  It doesn't happen, right? My heart broke in that moment. You are now responsible for my broken heart. 😉
Fire Falling is a solid follow up to the first book in the 'Air Awakens' series. Sweet friendships, a sizzling romance and an arduous journey for the main character Vhalla, Fire Falling will break your heart – in a good way.
Author Bio:
Elise Kova has always had a passion for storytelling. She wrote her first novella, a high-fantasy, in sixth grade. Over the years she's honed her love of literature with everything from fantasy to romance, science fiction to mystery, and whatever else catches her eye.
Elise lives in Saint Petersburg, Florida, where she's currently working on the next installment in her debut YA fantasy series: Air Awakens. She enjoys video games, anime, table-top role playing games, and many other forms of "geekdom." She loves talking with fans on Twitter (@EliseKova) and Facebook.
Giveaway time:
a Rafflecopter giveaway
Whose heart broke at that ending? Who wants to slap the Emperor? – I know I do.