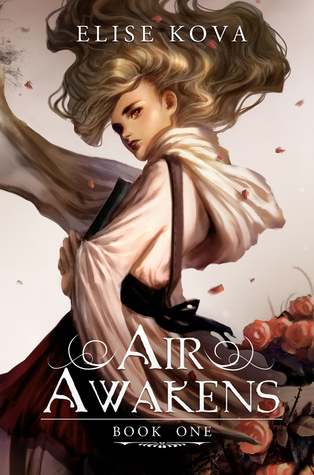 Author: Elise Kova
Published: Silver Wing Press, August 2015
Pages: 377
Genre: Fiction, Fantasy
Series: Air Awakens #1
Read more about it on 

4.5 out of 5 stars

(I usually have a photo of the blurb here, but I don't actually have a physical copy of this book, so can't take one.)
Vhalla Yarl is an apprentice librarian; this is all she thought she was until one day she learns that she is a sorcerer and that she inadvertently saved the life of Crown Prince Aldrik, one of the most powerful sorcerers there is. Not wanting to believe that this is true, as sorcerers are not looked upon kindly, she is now faced with the decision of whether or not she should keep her magic and fill her full potential or to give it up and resume the life she has only ever known.
Reading this book was the result of the hype monster, after seeing much fangirling going on on Twitter. As a result I preordered it and boy am I glad. First of all it includes libraries – not one, but two – which is a definite bonus and one of these libraries is full of books about MAGIC! Where can I find myself one of these? And, well, basically where can I find myself some magical abilities, because I'm waiting and waiting and they haven't manifested – I'm losing hope. There is a part where Vhalla is swinging around on a moving ladder and it is my dream to have a library and one of those sliding ladders – I'm supremely jealous that she gets to do this.
The characters aren't 2D… There are complexities amongst them; I often didn't know whom to trust and felt as if I was trying to work this out alongside Vhalla. I liked Vhalla; I wish she wasn't so down on herself though, but maybe this is a consequence of where she had been living since she was eleven. There is character development present which is always good to see and she always came back fighting; she never let anything keep her down for too long, which I admire. I also liked that there was an emphasis placed on intellect. I have to share some great quotes which I wrote down:
"The pen was like an extension of her being and she forged the ink to her will as if she were under the spell of the words."
"She didn't care if it was against Southern fashions, she'd give anything for a pair of trousers." (A girl after my own heart.)
"…walking through the library was like reuniting with an old friend. Each shelf was a familiar face, many books holding memories for her as much as holding information." (How beautiful is this?)
Aldrik was… Well, Aldrik a lot of the time is an arse. In fact, in the beginning, if I could reach into the book and slap him, I may have. You most likely won't instantly like him but I promise you will grow to like him. There's a lot more to him and I have a feeling he is just lonely and as he has experienced much prejudice because of his magical abilities this hasn't made him the most sociable, welcoming creature when its comes to people. There is a definite intensity between him and Vhalla and I'm appreciative that Elise Kova didn't give us too much and has left the reader kind of hanging when it comes to their relationship, although this can also be torturous. There are also many other characters that I liked and didn't like, because they are just awful. I hope that we get to delve more into Aldriks' relationship with his brother, because those two confuse me.
As is probably already obvious, I love magic and enjoyed the magic in Air Awakens – elemental magic is one of my favourite forms of magic to read about. I like how the magic is tied to different regions, but I only wish we could have seen more about these different areas, but I have a feeling we will see more as the series progresses. The magic is interesting also, because it is surrounded by a Us VS Them mentality; this is weaved throughout as those with magic are often viewed as abominations by those without, even though they have no control over receiving their gift. Things like this I think always add more depth to a story and always peak my interest because I can never stop myself from becoming outraged at this injustice of people's stupid capacity to be so narrow minded and always fear that which they do not understand.
Air Awakens  is a book with magic, some great characters – although you won't always like them, which just makes it more real – and a world I wish to visit again and again. Bring on the magic! I can't wait for the sequels release in November!
Who else has read Air Awakens? Is everyone looking forward to the sequel as much as me? If you could choose to have control over one of the elements, which would you choose?